Step into Tomorrow: Fully Electric HVAC Equipment for Toronto Living
September 28, 2023
Step into Tomorrow: Fully Electric HVAC Equipment for Toronto Living
In the worldwide drive for sustainability, Toronto stands out as a hub of innovation in the realm of residential heating and cooling. The shift to fully electric HVAC systems showcases not only technological advancements but also our deepening dedication to environmental conservation. Prioritizing sustainability, efficiency, and a minimized carbon footprint, electric HVAC systems are fast becoming pivotal in contemporary Toronto homes. As we navigate the nuances of these technologies, we highlight their significant influence on urban sustainability. Journey with us into Toronto's future, where each household decision reflects a broader commitment to eco-conscious living.
Electrify Your Comfort with Heat Pumps
Heat pumps
work using a simple yet efficient principle: they transfer heat from cooler areas to warmer ones. For example, during the chilly winter season, these pumps extract heat from the frosty outdoors and usher it into your cozy home.
Mitsubishi Electric
underscores that this methodology allows heat pumps to deliver more heat energy than the electricity they consume, all while bypassing the need for fossil fuels. But that's not where the magic ends. Heat pumps double up as cooling systems when summer rolls around. Investing in a heat pump not only provides you with a dual-functioning system for the price of one, but also contributes to the reduction of greenhouse gas emissions
Fan Coils in Focus: Toronto's Eco-Conscious Evolution in HVAC
The transformative role of fan coil systems is undeniable. Seamlessly blending functionality and simplicity, these units expertly regulate temperature by cycling indoor air over its coils. Their key features include cost-effective installation and outstanding efficiency, complemented by silent operation and minimized vibration. Such systems have become integral in a variety of settings, from bustling corporate offices to the luxurious condos dotting Toronto's skyline. With the allure of potential energy savings reaching up to 45%, fan coil units are emblematic of Toronto's forward-thinking approach to eco-conscious living, balancing luxury with a steadfast dedication to our planet.
Electric Fireplaces: A Safer and Cozier Heating Choice
Electric fireplaces
offer the timeless allure of traditional fireplaces but with a contemporary twist, championing both safety and eco-friendliness. Unlike their conventional counterparts, these electric wonders produce zero emissions, marking a significant step towards an eco-conscious home. Dive into the ambiance and warmth characteristic of traditional or gas fireplaces, but with the reassurance that you're treading lightly on the planet.
Napoleon
's industry experts highlight the multitude of advantages that come with electric fireplaces:
- Affordability:
Lower initial costs make it a budget-friendly choice.
- Installation Simplicity:
Say goodbye to complicated setups.
- Safety First:
An excellent choice for households with playful kids and pets.
- Space Efficiency:
Sleeker and more compact than traditional or gas options.
- Energy Conscious:
Designed to keep energy consumption in check.
- Ease of Maintenance:
Minimal upkeep required.
- Durability:
Built to last, promising years of cozy moments.
Hot Water, Clean Energy: Hybrid Heat Pump Water Heaters Deliver
The
hybrid heat pump water heater
, sometimes referred to as the electric heat pump water heater, takes a unique approach: it transfers heat rather than producing it like conventional water heaters. This innovative approach yields significant energy efficiency. For Toronto homeowners eyeing this progressive water-heating solution, the advantages are multifold. It provides an eco-responsible way to heat water, thereby reducing one's carbon footprint. Furthermore, adopting such a system can lead to monthly savings, with homeowners appreciating reduced energy bills. Additionally, users can enjoy the serenity of its quiet operation, devoid of disruptive noises commonly associated with other heaters. Plus,
government rebates
available for these heaters make the transition even more enticing. Embrace the future of water heating; it's not just about hot water, but also cleaner energy and sustainable choices.
Efficiency Unleashed: Ductless Mini-Splits Go Electric
Ductless mini-split systems
represent the cutting edge of electric heating and cooling, especially with the introduction of cold climate heat pumps tailored for multi or single zones. In the face of Toronto's frigid winters, these cold climate heat pumps excel because they are engineered to extract heat efficiently even from extremely cold outdoor air, turning what seems like biting cold into cozy indoor warmth. This capability ensures consistent and energy-efficient heating tailored to Toronto's specific climate demands, reducing the reliance on fossil fuels and delivering cost-effective warmth to homeowners. Without the need for expansive ductwork, as seen in many traditional HVAC setups, these systems are a compelling option for Toronto homeowners. Their flexibility and straightforward installation make them an especially attractive choice. Beyond the streamlined design, ductless mini-splits stand as a beacon of eco-friendliness. They provide homeowners with the dual benefits of zoned heating and cooling, enabling precision temperature control, enhanced energy efficiency, and consequent reductions in energy bills. Furthermore, they play a pivotal role in elevating indoor air quality. As Toronto continues its march towards a greener, more sustainable future, these systems offer its residents a chance to seamlessly integrate top-tier comfort with conscious, environmentally-friendly living.
How Toronto Homeowners Reap the Rewards of Electric HVAC Equipment
Toronto homeowners who choose fully electric HVAC equipment are making a wise investment, enjoying increased energy efficiency, notable cost savings, and significantly improved indoor air quality. These electric HVAC systems deliver these benefits primarily by eliminating the need for burning fossil fuels, which often leads to energy loss and harmful emissions. By operating on electricity alone, these systems can regulate temperatures more efficiently, curbing unnecessary energy consumption and leading to reduced utility bills. Another standout advantage of fully electric HVAC equipment is its contribution to a reduced carbon footprint. Without relying on gas or oil, electric HVAC systems generate no direct greenhouse gas emissions, playing a pivotal role in the broader fight against climate change.
By transitioning to electric HVAC, Toronto homeowners are not only ensuring a more sustainable household but also actively aligning with the city's
TransformTO plan
. This ambitious strategy targets a reduction of greenhouse gas emissions to 65% below 1990 levels by 2030 and seeks to achieve net-zero greenhouse gas emissions by 2040. In making eco-friendly choices, residents are driving Toronto closer to these substantial sustainability goals. Looking to transition to a greener home? Reach out to
Maple Air
for electric HVAC solutions that champion a brighter and more sustainable future.
Contact us
today to take the next step in eco-friendly home comfort.
Back to all blogs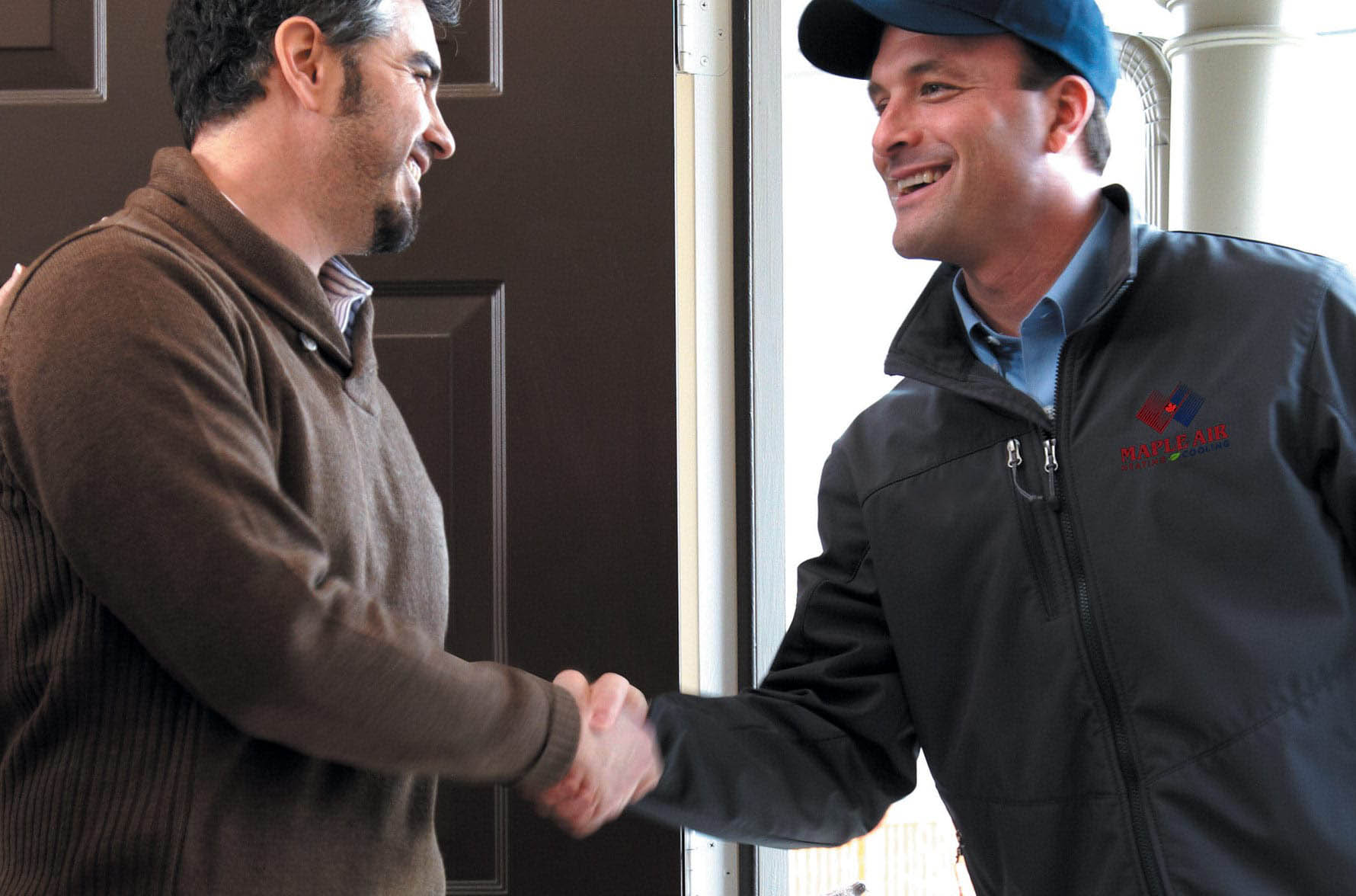 100% Satisfaction Guaranteed
Certified, Knowledgeable & Licensed Technicians at your Service

Same Day Service & Installation Available*

Honest and Competitive pricing