Carrier® President's Award
Carrier® President's Award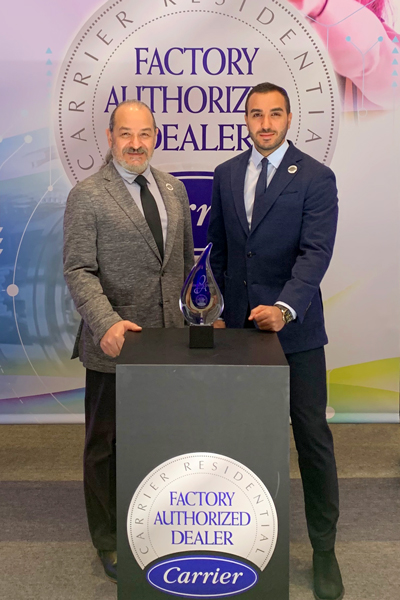 It is a real honor to be holding the 2020 Carrier President's Award. Holding the award means being recognized by Carrier as a dealer that demonstrates leadership, customer satisfaction, expertise, operational excellence, and business growth. Only Carrier Factory Authorized Dealers who provide Carrier products as their primary product and have attained a high score based on a set of standards established by Carrier can qualify for the Carrier President's Award.
To be a Carrier Factory Authorized dealer means to be certified by Carrier to perform HVAC installation, maintenance, and repairs that meets extremely specific high-level standards set by Carrier. The standards peruse to recognise model Carrier Factory Authorize Dealers with performances that has proven year-over-year growth with an emphasis on customer satisfaction in all areas that are vital to surpassing Carrier customer expectations for comfort, quality, and performance.
As a President's Award recipient, Maple Air Heating and Cooling has proven immense knowledge and expertise in Carrier products, HVAC industry trends, and best practices. The Maple Air team's objective is to lead the way for other HVAC companies in the Greater Toronto Area and across Canada by have a strong emphasis on effective leadership, communication, and knowledge within the entire organization.
The Maple Air Team, located in Vaughan, Ontario continues to maintain the highest standards of customer service and satisfaction. Our customers are why we do what we do; we work hard every day to ensure that our customers can have top quality products, services that provide solutions, and a comfortable home.
The Maple Air team is always here for any of your HVAC needs; whether that is purchasing a new Carrier HVAC system, getting a routine maintenance, or simply answering any of your questions by contacting us anytime. A big thank you goes out to each and every one of our customers for helping us achieve this award.
100% satisfaction Guaranteed
Monthly Maintenance & Protection Plans Avaliable
Honest & Competitive Pricing
Certified technicians
At Maple Air our professional business environment is powered by experienced and certified technicians.
Same Day Service*
At Maple Air we have the resources and support to provide all our customer with fast and reliable service.
24 Hour Emergency Repair
At Maple Air service team is fully dedicated to assist you with any issues and emergencies.
Flat Rate Service Pricing
To simplify and help our customers save on repair cost, we have developed an in-house Honest & Flat Rate Pricing on all repairs - No hidden charges!