How to Choose the Right HVAC Contractor in Toronto
September 21, 2023
How to Choose the Right HVAC Contractor in Toronto
Selecting the right professional to manage your HVAC system, the very core of your home's comfort, is crucial. It's essential that the chosen contractor is trustworthy, reliable, professional, experienced, insured, certified, and possesses a host of other key attributes. With a multitude of options available, making the right choice can indeed be daunting. At
Maple Air Heating and Cooling
, our two-decade-long presence in the HVAC industry positions us well to guide you through the decision-making process. Here's a primer on what you should prioritize when selecting an HVAC contractor in Toronto.
Do Your Research
Thorough research is foundational when deciding on an HVAC contractor. The Greater Toronto Area is teeming with HVAC professionals, and it's vital that your chosen one is someone you can unequivocally trust with your expensive HVAC system. Engaging with someone lacking proper certification can be a significant gamble. As you embark on your research, it's beneficial to gravitate towards contractors affiliated with established companies, like
Maple Air
, for instance. Beyond just perusing a company's
official website
, dive into their
reviews
, and scour their
social media profiles
for examples of past work, and firsthand
customer feedback
. Below are some points to keep in mind while conducting your research:
- Verify the certifications, licensing, training, insurance, and affiliations of both the HVAC contractor and their parent company
- Seek industry-specific
awards
or
recognitions
the company might have earned
- Explore the range of brands the HVAC company is associated with and offers
- Gauge their industry standing through their years of experience
- Evaluate their pricing structure and the availability of
financing options
- Explore available
rebates and special offers
Understand Their Services and Offerings
It's essential to have a comprehensive understanding of the services and offerings an HVAC contractor provides. Some contractors may specialize in specific HVAC services, such as installations, repairs, or maintenance, while others may offer a full suite of services. Additionally, it's crucial to check if they provide solutions tailored to both residential and commercial needs or just cater to one segment. Understanding their range of services ensures you aren't caught off guard later and helps in selecting a contractor that aligns perfectly with your specific requirements.
Get a Feel of the Company's Communication
Clear, prompt, and effective communication is a hallmark of any reputable HVAC contractor. It's important to gauge how the company responds to your inquiries. Are their responses timely? Do they provide clear and concise information? Can they address all of your inquiries? An HVAC contractor or HVAC company's communication often reflects their professionalism and the character of the company. A contractor who prioritizes transparent and proactive communication will not only enhance the overall process but also ensure that you remain well-informed throughout every stage, spanning from initial consultation to project completion.
Get on a call
directly with the HVAC contractor or company you're considering to evaluate the clarity and thoroughness of their answers to your questions.
Inquire About Their Warranties, Guarantees, and Protection Plans
When evaluating HVAC contractors, it's crucial to delve into both their warranties and guarantees as well as any additional maintenance or protection plans they may offer. These aspects reflect the contractor's commitment to their work and your satisfaction. Regarding warranties and guarantees, it's essential to seek clarity on the terms. Understand the duration, the specific components or services covered, and any conditions that might void the warranty. Some top-tier contractors go the extra mile by providing satisfaction guarantees, underscoring their dedication to quality and customer happiness. Always insist on having these terms in writing, as a clear and robust warranty not only safeguards your investment but also symbolizes the contractor's unwavering commitment to quality and long-term customer contentment.
Moreover, while warranties and guarantees are significant, it's worth exploring if the HVAC contractor offers additional
maintenance or protection plans
. These plans can extend your coverage beyond traditional warranties, offering added security for your HVAC products and services. At Maple Air Heating and Cooling, we provide customers with the option to enroll in
Maple Care
, a comprehensive maintenance and protection plan designed to ensure all of your heating and cooling needs are taken care of.
Compare Quotes Between Different HVAC Toronto Contractors
After conducting thorough research and shortlisting a few reputable HVAC contractors, the next step involves comparing their price quotes. It's crucial to gain a clear understanding of the cost structures presented by each contractor and what precisely those costs encompass. While a significantly high price quote might raise concerns, it's equally important to be cautious of excessively low quotes. Here are key factors to consider when reviewing quotes from different HVAC contractors:
-
Hidden Fees:
To avoid unexpected expenses, insist on receiving written quotes that provide a comprehensive breakdown. Pay attention to any undisclosed fees that might not have been initially outlined.
-
Insurance:
One of the paramount considerations when selecting an HVAC contractor is their insurance coverage. Verify that insurance details are clearly stated in the price quote to ensure you're adequately protected.
-
Installation, Repair, or Replacement Costs:
If you're investing in a new HVAC system, your price quote should delineate the purchase price of the equipment as well as installation costs. However, it's equally vital to explore the same HVAC company's pricing for potential future repairs or replacements. This foresight is crucial because maintaining a long-term relationship with a reliable HVAC provider is often preferred.
Making the Right Choice for Your Home's Comfort
Navigating the complexities of choosing an HVAC contractor in Toronto shouldn't be a task undertaken lightly. After all, it's about entrusting someone with the comfort and well-being of your home. With over two decades of unwavering commitment to quality, transparency, and customer satisfaction,
Maple Air Heating and Cooling
stands as a beacon of reliability in the HVAC landscape. Don't leave your comfort to chance; entrust it to the experts. For a seamless, trustworthy, and top-tier HVAC experience in the Greater Toronto Area,
contact
Maple Air today. Your home deserves nothing but the best.
Back to all blogs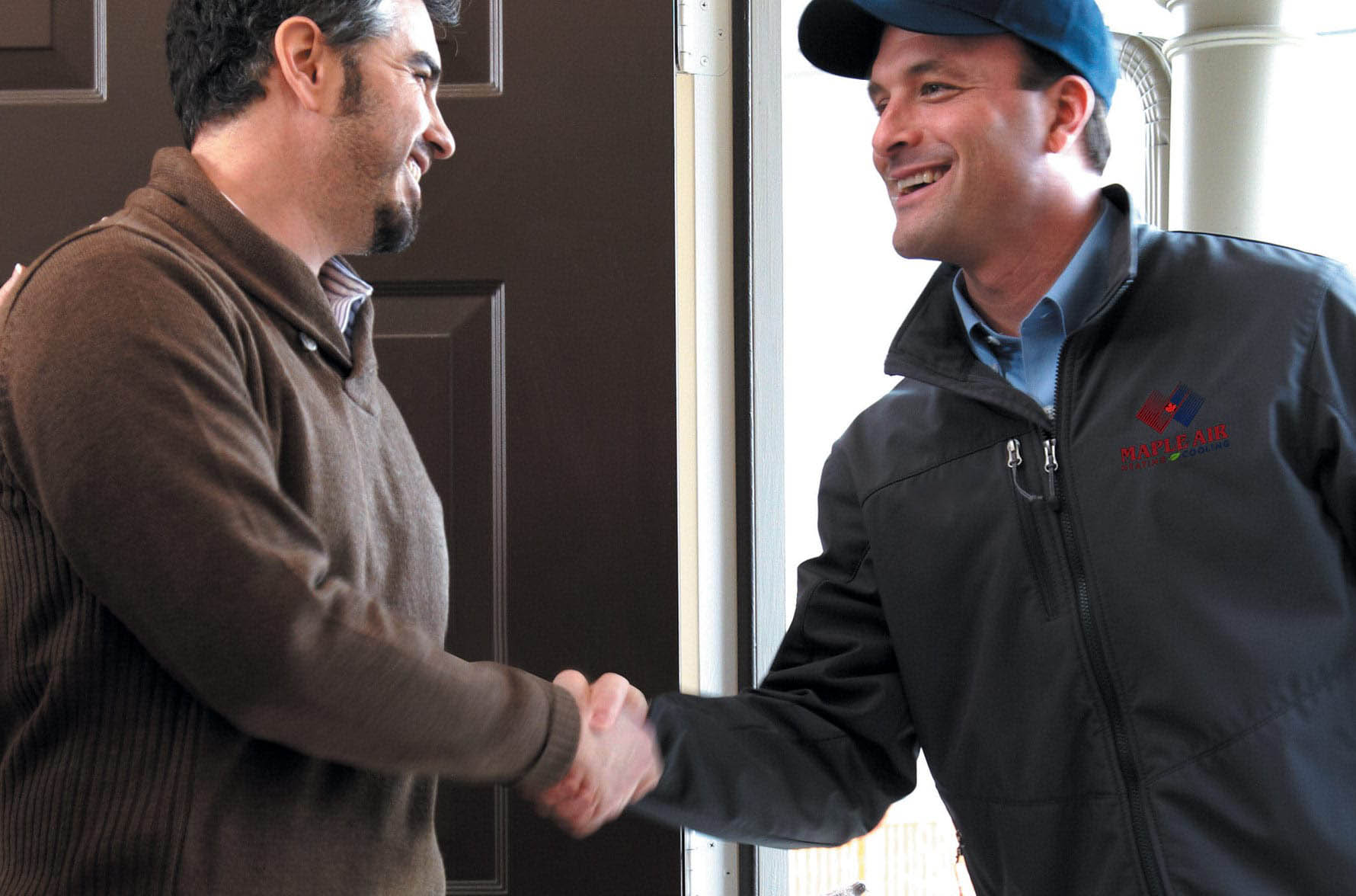 100% Satisfaction Guaranteed
Certified, Knowledgeable & Licensed Technicians at your Service

Same Day Service & Installation Available*

Honest and Competitive pricing