How to Transition your HVAC System for the Winter Season
November 16, 2023
How to Transition your HVAC System for the Winter Season
As the chill of winter approaches in Toronto, transitioning your HVAC system from cooling to heating becomes crucial. This shift is not just a routine seasonal change; it's essential for maintaining a comfortable and warm environment during what can be the most challenging months of the year. Imagine enduring a Toronto winter with a malfunctioning furnace! To prevent such discomfort and ensure the efficiency and reliability of your HVAC system, following specific steps is vital.
Prioritize Professional Maintenance
Winter in Toronto demands a reliable
heating system
, and the best way to guarantee this is through professional maintenance. While DIY approaches might be tempting, they often fall short in addressing the intricacies of modern HVAC systems. This is a season where taking chances with your comfort and safety isn't advisable.
Scheduling a maintenance appointment
with a certified HVAC contractor is more than just a routine checkup; it's a proactive measure to guarantee a smooth, comfortable winter season. A professional technician not only performs comprehensive maintenance but also identifies potential issues, offering timely solutions to avoid mid-winter breakdowns. Remember, a well-maintained HVAC system not only enhances your comfort but also contributes to energy efficiency and prolongs the lifespan of your unit. Don't wait for the cold to set in;
schedule your heating maintenance appointment today
and enjoy peace of mind throughout the winter.
Embrace the New Season with New Air Filters for Optimal HVAC Performance
Welcoming winter in Toronto means ensuring your HVAC system is equipped with clean air filters, a crucial step for maintaining efficiency. Regular replacement, typically every 30 to 90 days, is key for peak performance and varies based on factors like pets, dust, and allergies. Fresh air filters not only enhance system functionality but also improve indoor air quality, particularly vital during the colder, sealed-off months. Keep your home warm and healthy this winter by updating your air filters.
Optimize Your Thermostat for the Winter Season: Programming and Testing
As the control panel of your home's heating system, your
thermostat
plays a crucial role. One of the initial steps in preparing your home for the winter season is to set and test your thermostat, ensuring that everything is operating accordingly. Switch your thermostat to the heating setting and confirm that it is effectively distributing warm air throughout your home.
Have a Plan to Protect Your Heating System: Enroll in a Maintenance and Protection Plan
It's not uncommon for homeowners to encounter heating issues as the cold sets in, leading to a scramble for HVAC assistance. At Maple Air, we offer worry-free winter support with our priority HVAC care through our Maple Care plans. Don't wait for a heating emergency; secure your peace of mind by contacting us today. Learn more about enrolling into our
maintenance and protection plans
, specifically designed to keep your home warm and cozy throughout the winter season by giving us a
call
today.
Inspect Air Vents and Ducts for Efficiency: Ensure Clear Ventilation Path for Home Heating
As Toronto homeowners gear up for the winter season, it's essential to prioritize the effectiveness of your central heating system. Clear air passages are critical for the efficient operation of your heating system. Blockages or obstructions in vents and ducts can significantly impair the system's ability to distribute warm air evenly throughout your home. A thorough inspection will help identify any issues that might prevent your HVAC system from performing at its best. If necessary,
schedule a duct cleaning service
to be certain your air ducts are in optimal condition. Ensuring that your air vents and ductwork are free from obstructions not only enhances the efficiency of your heating system but also contributes to maintaining consistent and comfortable temperatures in your home. Take the time to check these components as part of your winter preparations for a worry-free and cozy season.
Prepare Your Humidifier for Comfort in Toronto's Dry Winter
With dropping temperatures in the Greater Toronto Area comes lower humidity, which can have adverse effects on health, HVAC efficiency, and home condition. Dry air can lead to issues such as dry skin, respiratory discomfort, damage to wooden furnishings, and increased static electricity. However, preparing your
humidifier
for winter is essential to counter these effects. A properly maintained humidifier restores the necessary moisture to your home, ensuring a comfortable and balanced indoor environment, providing benefits for both you and your living space.
Enhance Your Toronto Home Comfort This Winter with Maple Air
Don't stress about the approaching frigid winter, instead stay prepared with Maple Air's expert HVAC services in the Greater Toronto Area. From maintenance to repairs, we ensure your home is ready for the coldest season of the year.
Contact us
today to schedule an appointment, inquire about HVAC services, or to learn more about our
maintenance and protection plans
. Choose Maple Air to keep your home comfortable all season long.
Back to all blogs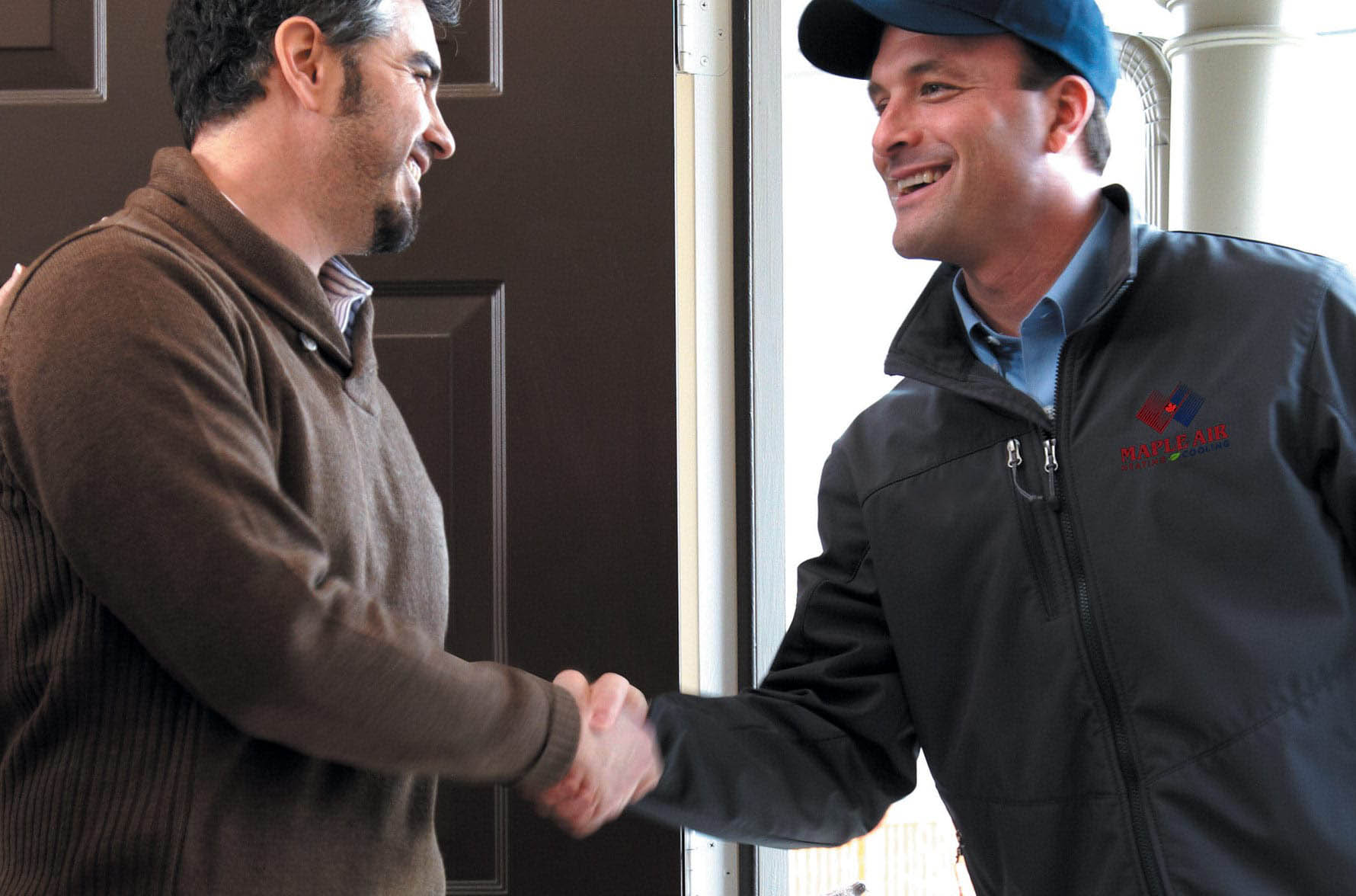 100% Satisfaction Guaranteed
Certified, Knowledgeable & Licensed Technicians at your Service

Same Day Service & Installation Available*

Honest and Competitive pricing