How to Know Whether it's Time to Replace Your Air Conditioner
June 17, 2022
How to Know Whether it's Time to Replace Your Air Conditioner
All mechanical systems have a lifespan. Your central air conditioner is made up of several different elements that work in conjunction with one another to provide a cool and comfortable space. There comes the point when your system is required to be replaced. Here's what you need to know about replacing your
air conditioner.

Why do Air Conditioners Need to be Replaced?
There are a number of reasons why an air conditioner needs to be replaced. It can be a result of one big issue or multiple issues. Some common reasons include:
Nearing the end of its lifespan: the average lifespan of a central air conditioner is 15 to 20 years. Factors affecting your AC's lifespan include how the system was maintained, functioned, and generally taken care of. When your system is nearing these 15 to 20 years, it may be time to contact Maple Air Heating and Cooling to inquire about a new and improved system.

Electrical problems: a system's wiring quality may deteriorate over time, directly impacting your circuit breaker. This issue can occur due to the unit's age but could also transpire as a result of improper wiring at the time of the initial installation. It is best to get in touch with a certified HVAC technician for inspection if you are unsure about the condition of your wiring.

Frozen coils: your unit's coils hold responsibility for cooling the warm air within your space. Sometimes, dirt, dust, and other detritus clogs may occur in the filters or ducts, which may result in the warm air being restricted from reaching the coils. As a result, the coils are unable to efficiently cool the air and could cause the coils to freeze in the long run.

Overworked components: there are certain elements in your system that, if overworked, can require full AC replacement. Capacitors and contractors work with one another to assist in powering the fan and compressor. Because these components are exposed to a significant amount of electricity, they are prone to becoming overheated and overworked, particularly during the hot summer months.

Factors to Consider When Replacing Your Unit
Purchasing a new unit is a significant investment. The critical question many customers ask is "when do I know it's time to replace my air conditioner"? Of course the above points are telling signs, however sometimes customers may choose the repair route. Here's how you'll know it's in your best interest to replace your old AC unit:
Expensive repair costs: If repair costs are near the price of a new system, you're better off upgrading your air conditioner. Especially if your existing AC is near the end of its lifespan, it may not make sense financially to invest in costly repairs.

Efficiency: As your air conditioner ages, it begins to lose efficiency. Efficiency goes hand in hand with energy costs. Newer models of Carrier air conditioners from Maple Air Heating and Cooling, have higher energy efficiency ratings, quieter operations, and improved comfort.

Appropriate size: Air conditioners are not one-size-fits-all. Improperly sized units may result in overworked systems and increased energy bills. Therefore, having the correct sized unit installed in your space is important. Schedule an appointment with a specialist from Maple Air Heating and Cooling to best advise you on what unit is suitable for your home.

Financing options: New systems are a huge investment, however we understand the importance of this investment in your family's comfort. At Maple Air, we offer 12 months no payment no interest to better suit our customers' financial needs.

If you're considering upgrading to a new air conditioner, schedule a consultation with one of our HVAC experts to determine the best unit for your space.
Contact our team at Maple Air Heating and Cooling
today for any of your cooling needs in the Greater Toronto Area.
Back to all blogs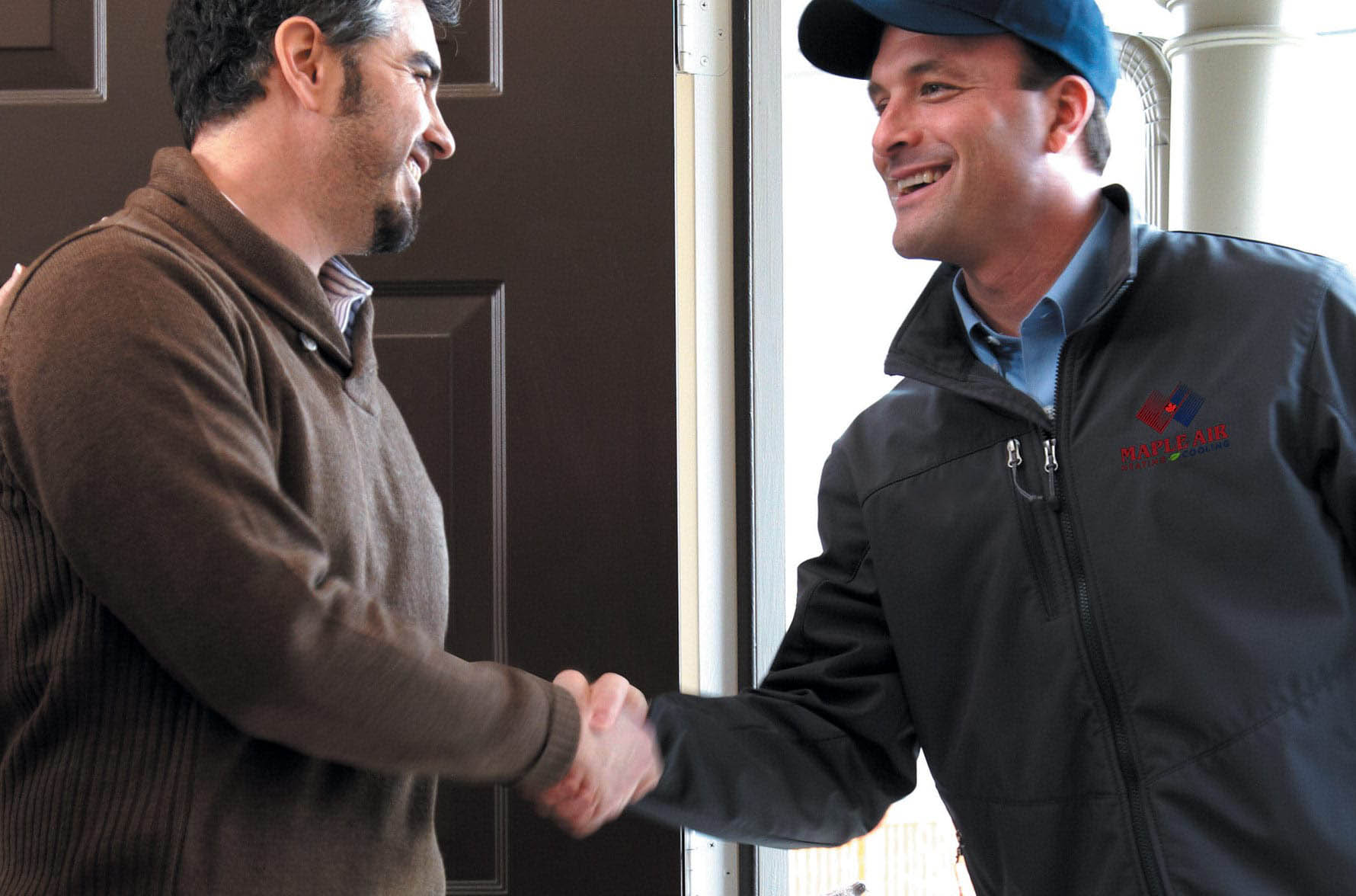 100% Satisfaction Guaranteed
Certified, Knowledgeable & Licensed Technicians at your Service

Same Day Service & Installation Available*

Honest and Competitive pricing