Ductless Vs. Central Air Conditioners
Ductless Vs. Central Air Conditioners
When it comes to staying cool, there's a variety of options to choose from in today's market. No matter what budget or size of space, the summer heat does not have to defeat your comfort. Regarding the cooling options you have, the two most popular selections are central air conditioners and ductless systems.
Ductless System
Ductless
, also known as mini split air conditioner system, consists of two parts; indoor air handler and outdoor condenser. The outdoor unit, the condenser, runs in both a heating and cooling mode. The indoor unit, air handler, is connected to the outdoor unit though a refrigerant line. A ductless system is a great option for homes that do not have existing ductwork. Some benefits you can enjoy with a ductless system are:
- Can act as an air conditioner or heat pump
- Energy efficiency
- Quiet
- Quick and easy to install
In addition, a ductless system can be in the form of a single zone or multi-zone. Regardless of what zone, it will still be managed by one outdoor compressor. Ductless systems are ideal for offices, rooms with inconsistent temperatures, and homes that have radiator heating but no air conditioning. Additionally, ductless systems can replace traditional baseboard heaters as an up to date source of heating. Ductless systems are beneficial because they provide users flexibility and temperature zoning control for each area of their space. Installing a ductless system is always quick process with
Maple Air Heating and Cooling
, serving the Greater Toronto Area.
Central Air Conditioner
A central air conditioner works by cooling air though a central location and distributing the cold air by the use of fans and ductwork. When it comes to
central air conditioners
, there are two options to choose from: split central AC and packaged central AC. A split central air conditioner consists of a condenser and compressor which is located outdoors, and evaporator coil located indoors. While a packaged central air conditioner has all mechanisms within the same unit: condenser, compressor, and evaporator coil. A central air conditioner requires ductwork as it is how cool air travels throughout the home. With a central air conditioner, your entire home is provided with cooling and is centralized through a furnace or air handler system. It is important to note that a central air conditioner must be accommodated with furnace or air handler for cold air distribution. Central air conditioners offer many benefits such as:
- Add to your home's resale value
- Convenient
- Provides consistent temperatures in your home
Living in the Greater Toronto Area, anyone can easily agree that the temperatures we encounter in the summer require a cooling system in your home. Both ductless and central air conditioning systems provide your home with comfortable cooling. If you are debating between a ductless or central air conditioner system for your home,
Maple Air Heating and Cooling
serving the Greater Toronto Area can assist you.
Contact us
today to speak to a specialist and have an in-home estimate to understand what option is best for your needs.
Back to all blogs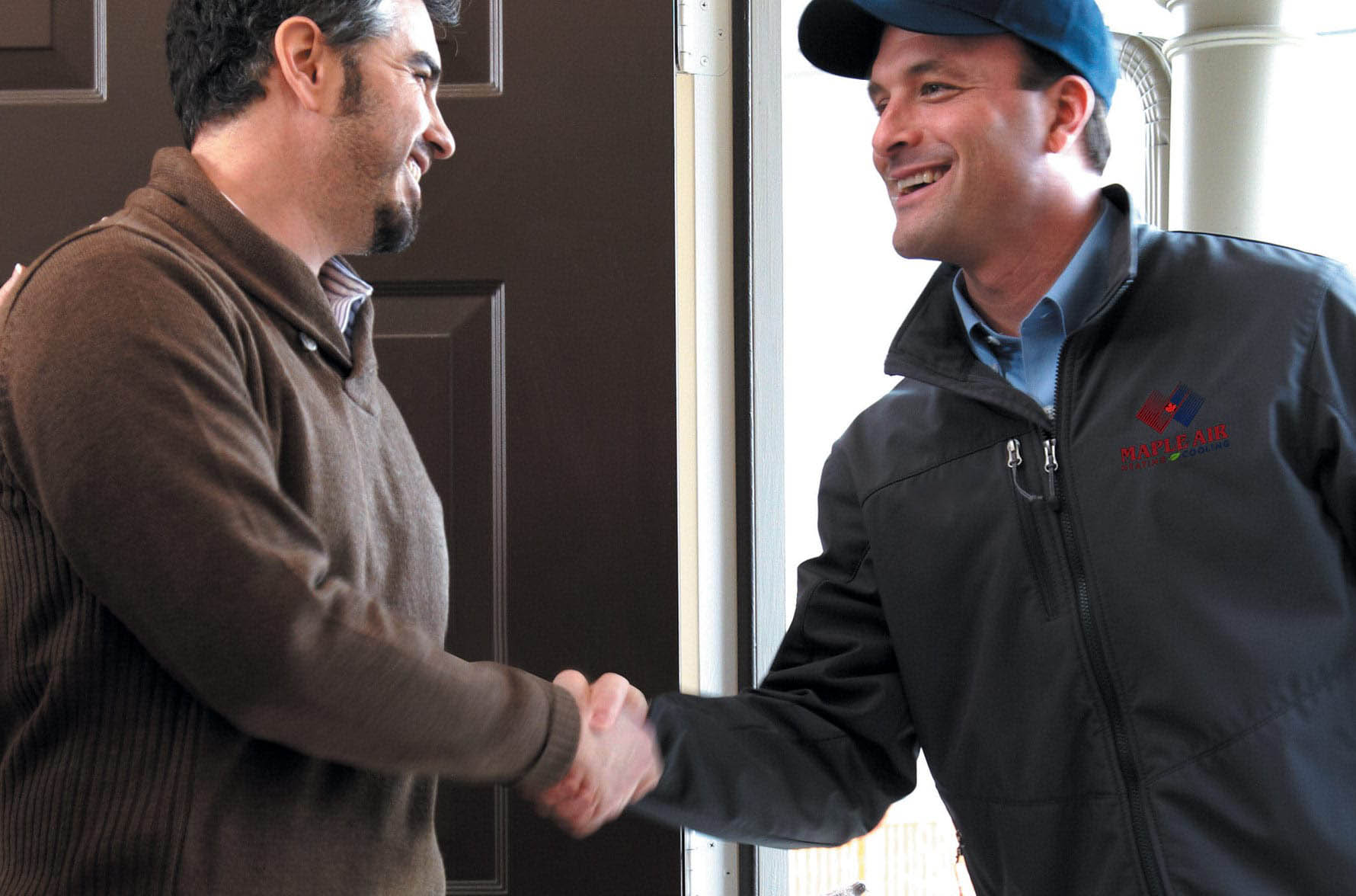 100% Satisfaction Guaranteed
Certified, Knowledgeable & Licensed Technicians at your Service

Same Day Service & Installation Available*

Honest and Competitive pricing