How to Hire an HVAC company: A Checklist
Your HVAC systems are very important factors in keeping your home running comfortably, safely, and correctly. When you run into a problem or need some advice regarding your HVAC system, it is important to be consulted by an expert technician. This way, you are getting the right products for your home and finding the best solutions for any of the problems your HVAC systems run into. It can be hard to find a right company without knowing what exactly you should be looking for, but with the help of our comprehensive checklist, we're sure you will find the best HVAC company that suits your needs.
Credentials
When looking for an HVAC company, it is crucial that their HVAC technicians are certified and licensed. Make sure that the HVAC company you are looking into has up to date certifications and all other necessary credentials to ensure that your home is being serviced by an expert.
Referrals
Word-of-mouth referrals are a great way to find out another person's opinion about an HVAC company. If you have any friends or family members who own homes, they have definitely dealt with an HVAC company whether it was buying a new system or having a current one repaired. You can rely on their first hand experience for a strong understanding on whether that specific HVAC company would be suitable for you.
Reviews
Online reviews are a quick way to eliminate some HVAC companies, or save them as a potential choice. If you see an HVAC company with a 1-star rating it will definitely not be on your list of options. Its best to read reviews of HVAC companies in your area, choose a handful of ones with some good ratings, then go more in depth and research and contact each of these companies until you find one that fits your needs.
Find Special Offers
As a homeowner, HVAC systems are one of the biggest purchases you will have to make. Keep your costs low by looking for rebates and financing options. This will help you buy the HVAC systems you need without breaking the bank.
Ask for Estimates
Not only will this step help you save money, but it will also assure you are getting the best price possible. Call a few different HVAC companies to ask about prices of products, services, and specials, then compare to see what price suits your budget and is overall the best offer.
Finding the perfect HVAC company will take some time and effort, but it is important to do your research in order to get the right services for the best price.
Maple Air
offers both
rebate
and
financing
options to help you save money.
Contact us
today to learn more about our products, services, pricing, or questions you may have. At Maple Air, we place our focus on brining comfort to each of our customers by providing comprehensive HVAC solutions. Our goal is to provide high quality HVAC systems and efficient services to keep our customers satisfied and comfortable in their home.
Are you a loyalty member? Just for reading our blog post we'd like to give you 1000 bonus points, add them to your account with the code:
LIST1000
. Not a member? Not to worry,
sign up
and start earning points today. New members receive a free $50 welcome gift!
Back to all blogs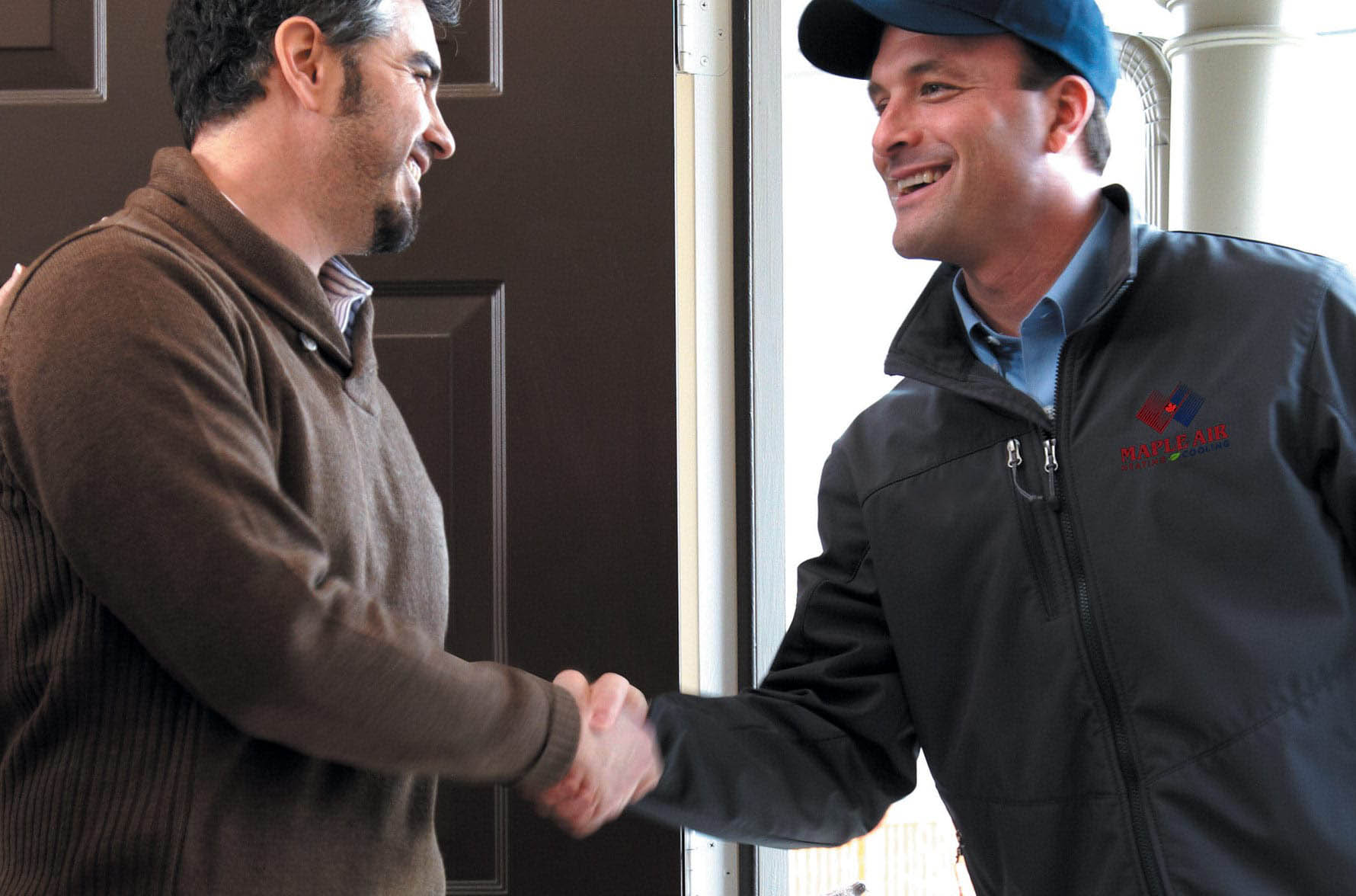 100% Satisfaction Guaranteed
Certified, Knowledgeable & Licensed Technicians at your Service

Same Day Service & Installation Available*

Honest and Competitive pricing